At EONA, we have been catering to the healthcare industry for almost a decade. Building on our experience serving hospitals, clinics and long-stay residential facilities, we have developed TEVEO SANTE to deliver an innovative patient experience.
All the benefits of a multi-screen solution.
TEVEO Sante is a unified solution that lets you deliver interactive services on the TV by each and every patient bed, as well as manage how you display information in public areas of your facility.
TEVEO SANTE is also available on tablet devices, meaning it is equally suited to outpatient facilities where space is at a premium.
An end-to-end service: from admission to discharge.
TEVEO Sante gives healthcare providers the practical tools they need to manage day-to-day patient relationships.
The patients' charter appears on-screen as soon as the patient switches on the TV in his or her room. The welcome guide is displayed on the internal TV channel, giving patients all the information they need throughout their stay. TEVEO SANTE also includes a video library service, where the provider can add VOD patient education materials. And prior to discharge, patients can answer a satisfaction questionnaire on the TV using their remote control.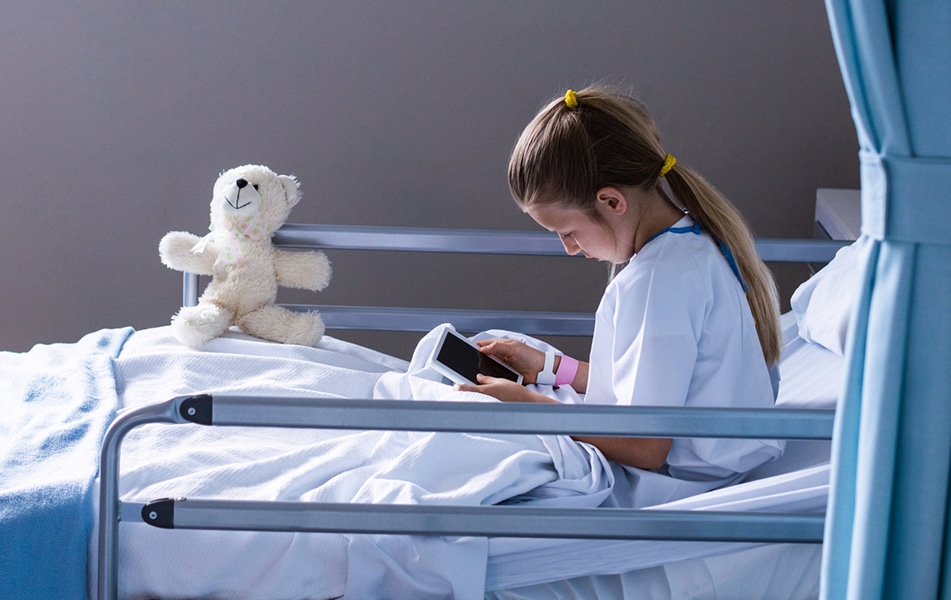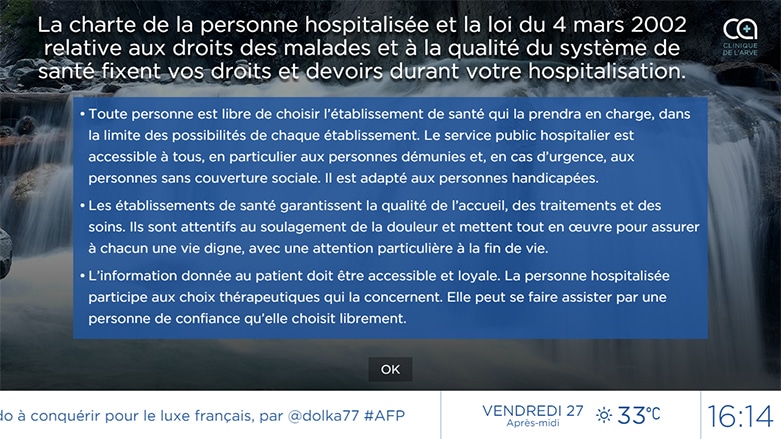 Patient Guide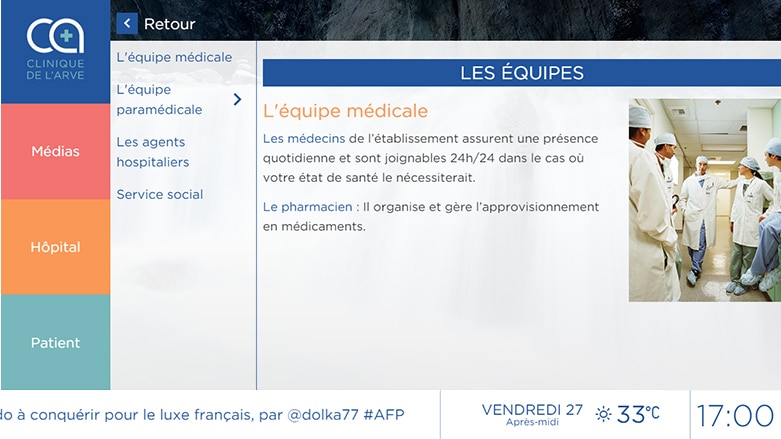 Welcome booklet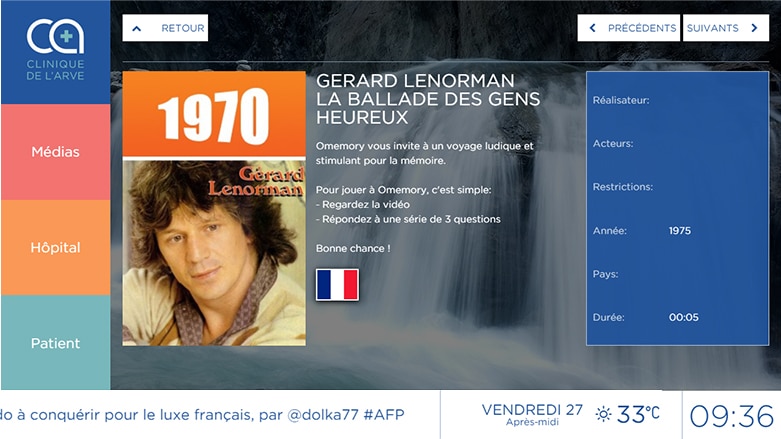 Omemory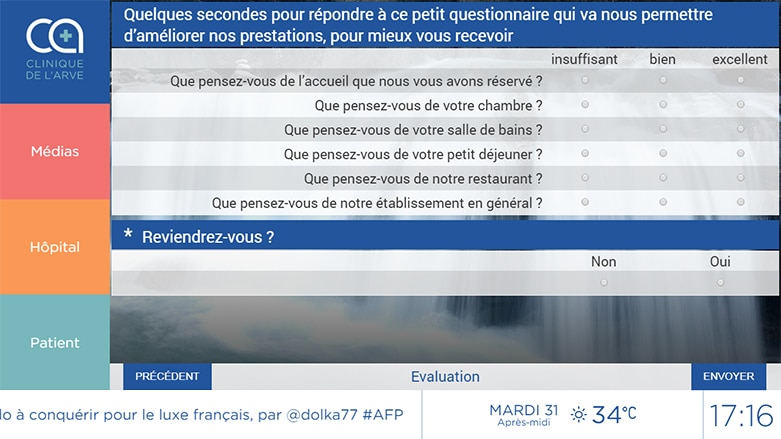 Survey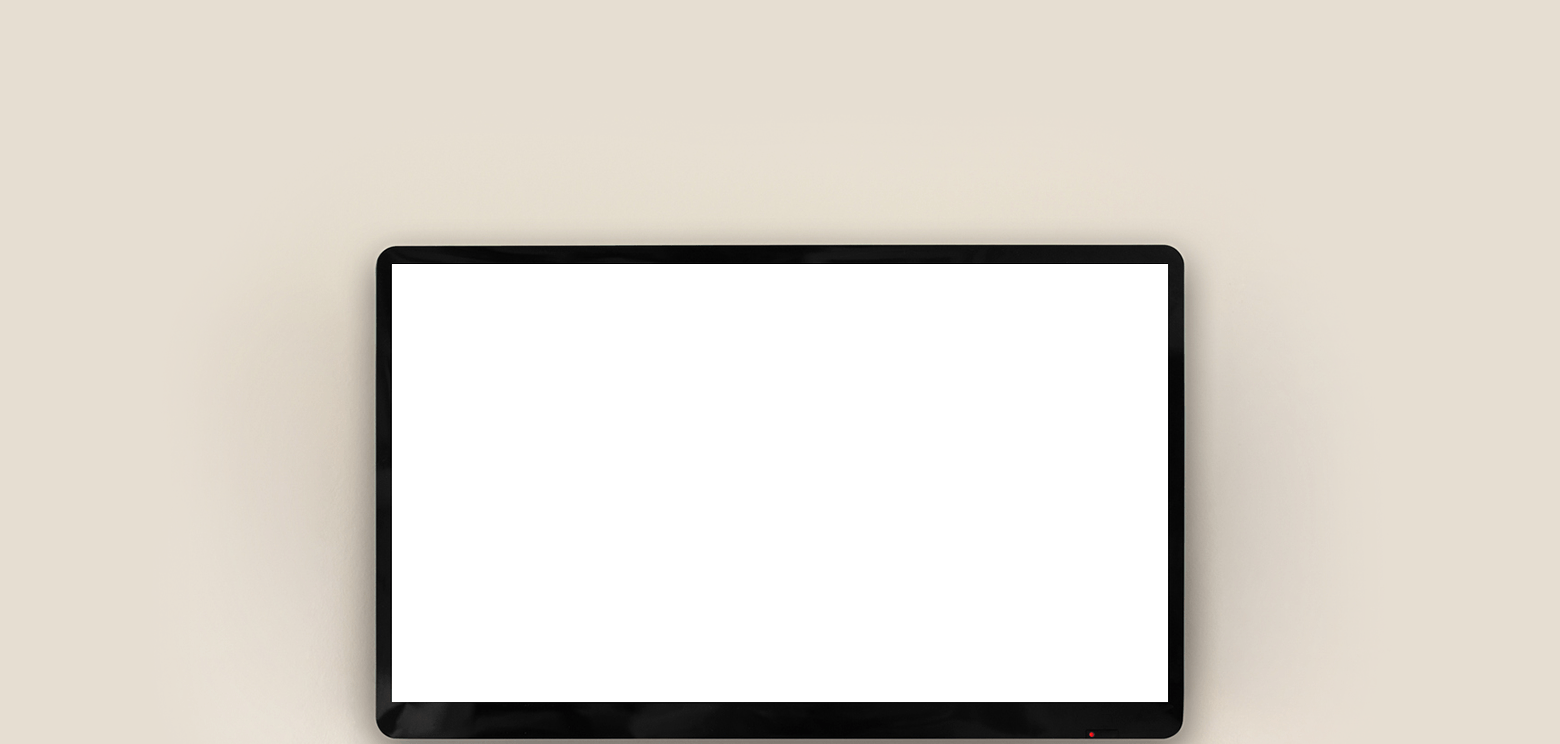 Making patients' stay more comfortable.
TEVEO Sante features a comprehensive range of entertainment options - from TV and radio channels, to VOD and music - to make life more comfortable for patients during their stay.
Our TV channel service includes a programme guide with a time and category search feature, allowing patients to quickly find their favourite show. The TV+ Direct module delivers even more convenience and comfort, letting patients pause and control live TV when they are away from their bed for treatment or other reasons.
The TEVEO SANTE solution can be combined with a subscription service to deliver film and music content, either across the entire premises or in a specific ward or department (e.g. VOD available in the paediatric ward only).
More and more guests are bringing their own content with them on mobile devices, so they can watch their favourite series. TEVEO SANTE comes with a "My Content" service that lets patients connect to and display their own content on their bedside TV, from their smartphone or tablet.
Total peace of mind
At EONA, our solutions have long been prized for their reliability. The fact that our very first healthcare customers, who joined us in 2010, are still with us today is testament to that.
We understand that healthcare providers need to deliver impeccable service 24 hours a day. That's why TEVEO Sante includes a back-up TV service mode, so guests can still access channels even when the server is down.
The added bonus is that, with EONA, you know your solution will benefit from upgrades over time. Whenever we incorporate new technologies into our solutions, we always make sure they are compatible with older hardware. That approach means our customers can upgrade their equipment at their own pace, and even have new smart TVs and older set-top boxes operating side by side at the same site.
Choosing EONA is about making a low-cost, long-term investment. Our support service includes upgrades, so you know you will always have the latest features and services, coupled with innovative technologies.